Installation Guide
This guide shows you how to take Process Modeler for Microsoft Visio. Process Modeler is a tool for business process modeling, and provided to you as an add-in to Microsoft Visio available. This section leads you through the installation and set-up process of Process Modeler for Microsoft Visio.  Should you encounter any problems during the following procedures, please refer to our support.
First goto Itp-commerce.com and scroll down.
Now you should see a Link called evaluation download, which u click and now u are required to Login with your Logindata.
After Loggin in you should see this Page:
Choose now your settings and click on "Next"
The next page you should see is the Download link.
Click on Download and wait until it is finished
Now run the Setup. It should look like this first.
Now follow the instructions on your screen and end it by clicking on finish now.
As a last step you need to open your Microsoft Visio. As soon as it opnes you should see this window popping up.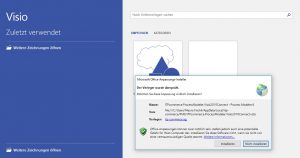 Click on Install and wait until it is finshed
Congratulation you have now installed your process Modeller for Microsoft Viso
How to License correctly can be seen here.